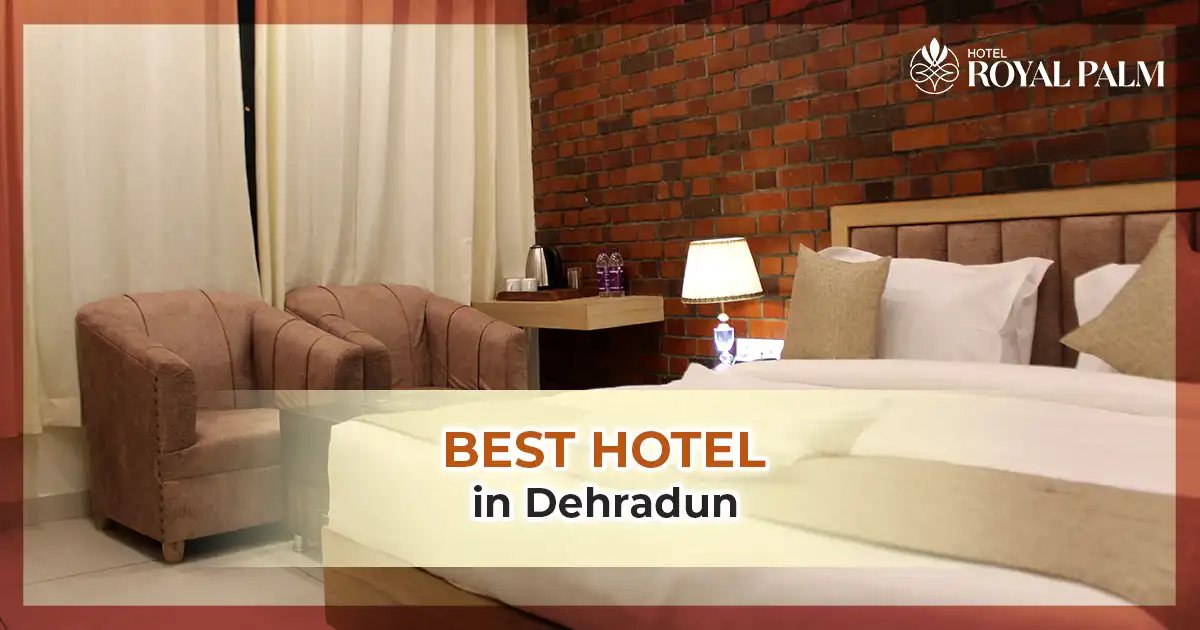 Discover the Majestic Charm of Hotel Royal Palm -The Best Hotel in Dehradun
Experience the ultimate luxury stay at The Best Hotel in Dehradun, Hotel Royal Palm. Located in the picturesque city of Dehradun, this luxurious hotel offers a range of amenities and services that will make your stay comfortable and memorable. Enjoy the breathtaking views from the rooftop pool, relax in the spa or take a dip in one of our many swimming pools. With its state-of-the-art facilities, comfortable rooms and attentive staff, Hotel Royal Palm is sure to offer you an unforgettable experience.
Luxury Accommodations
Hotel Royal Palm offers luxurious accommodations that are sure to impress even the most discerning traveller. From spacious room to cosy accommodation, there is something for everyone at this hotel.
Each room is tastefully decorated with high-end furnishings and modern amenities. Guests can enjoy plush bedding, flat-screen TVs, and complimentary Wi-Fi during their stay along with several amenities.
Exceptional Dining
One of the highlights of Hotel Royal Palm is its exceptional dining options. Guests can choose from several on-site restaurants, each offering a unique culinary experience.
Whether you're in the mood for a romantic dinner for two or a casual meal with friends, Hotel royal palm provides you the best place of environment to suit your needs. The chefs at Hotel Royal Palm use only the finest seasonal ingredients to create unforgettable dishes.
Why Hotel Royal Palm ?
Hotel Royal Palm,we call it "FACILITIESDESIGNED FOR LUXURY",equipped with 20 well-furnished and spacious rooms with modern facilities and amenities,
the hotel offers a unique blend of fine hospitality and unparalleled services.
Take a short break to the valley of the city Dehradun this season and relax amidst picture-perfect settings and cool Himalayan weather and fresh air. Stay at Hotel Royal Palm situated at the foothills of Mussoorie, away from the maddening crowd, where you can truly feel the tranquillity of nature at its best.
Special Hotel Package is something travellers often look after, and so whether you are travelling for a family holiday, romantic getaway, honeymoon, or last-minute weekend escape, Hotel Royal Palm, Dehradun offers the best all-inclusive offers/deals, vacation packages, and seasonal specials in Dehradun.
Hotel Royal Palm is in blissful surroundings, peaceful as you can imagine, with lush green stretches of green surroundings providing a perfect setup for a perfect family vacation amidst the natural beauty.
Hotel Royal Palm is a luxurious retreat located in the heart of Dehradun. With its opulent decor and state-of-the-art facilities, it offers guests an unparalleled experience. The rooms are spacious and well-appointed, with elegant furnishings and modern amenities. The hotel also boasts a range of dining options, from fine-dining restaurants to casual cafes.
What sets Hotel Royal Palm apart, however, is its exceptional service. The staff is attentive and friendly, always willing to go the extra mile to ensure that guests have a comfortable stay. Whether you're in Dehradun for business or leisure, Hotel Royal Palm is the perfect choice for those seeking luxury and comfort.
Prime Location
How to Reach Hotel Royal Palm?
Hotel Royal Palm is well connected by road, railway, air routes from all key cities.
The Hotel is 30 km away from Jolly Grant Airport & 8 km away from the railway station and 3 km away from the Helipad. You can also take the NH 72A highway known as the Delhi- Dehradun Expressway.
All the public commutable vehicles are well connected to the Hotel one can easily book a cab and enjoy the city of valley to the nearby tourist attractions. Hotel Royal Palm is situated along Canal Road just 1.5 km away from Pacific Mall. One can easily reach the hotel from the clock tower by booking any public means just in just 20 minutes.
Located in the heart of the city, Hotel Royal Palm is just steps away from some of the area's top attractions. Guests can easily explore the local museums, galleries, and shops, or take a stroll through the nearby park.
With its prime location, Hotel Royal Palm is the perfect base for both business and leisure travelers looking to experience all that the city has to offer.
Impeccable Service
At Hotel Royal Palm, impeccable service is the norm. From the moment you arrive, the friendly and attentive staff will go above and beyond to ensure that your stay is as comfortable and enjoyable as possible.
Whether you need assistance with luggage, recommendations for local attractions, or help with anything else, the staff at Hotel Royal Palm is always ready to assist with a smile.
Party Hall Party Lawn Roof Top
Hotel Royal Palm has 2 sections to offer outdoor lawn and indoor party hall. The total space offered has a capacity of 400+ guests. Party hall has a capacity of 100 people and the lawn has capacity of upto 300 people.
Located at Canal Road, Dehradun, Hotel Royal Palm is an ideal destination for weddings, product launches, corporate meetings, or private events. For intimate occasions we have a small party hall with a capacity of 70 guests and a banquet garden large enough to accommodate over 400 guests, you can choose the kind of event you want.
The hotel is very conveniently located just 1 km away from main Rajpur road and offers ample parking space for vehicles. A special welcome can also be arranged to make your guests feel at home.
Hotel Royal Palm, the best Hotel in Dehradun comes with the advantage of limitless creativity and foresight to guide and assist you in taking special care and attention to detail to ensure your event is a success. Enjoy free high-speed, wireless internet throughout the hotel, well-appointed rooms for a comfortable stay for your guests, the hospitality warm enough to make you feel at home, and what all you could imagine from any luxury hotel in Dehradun.