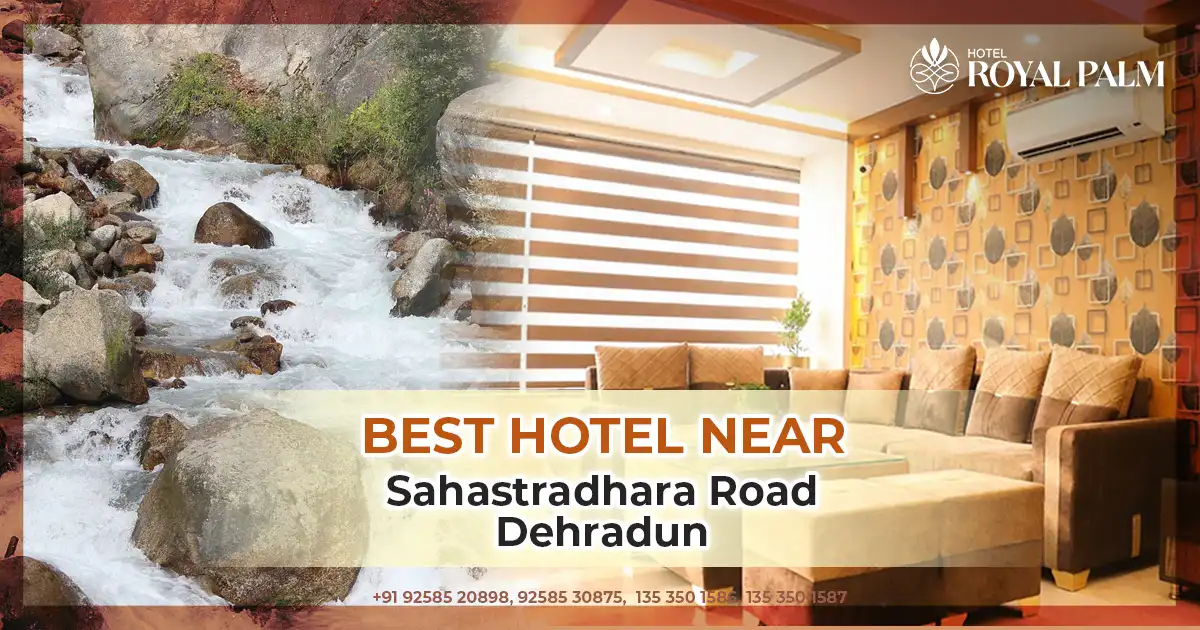 Best Hotel Near Sahastradhara Road Dehradun
If you're looking for a hotel near Shahastradhara Road in Dehradun, then look no further than Hotel Royal Palm. It is one of the best hotels in the area offering all the modern amenities and services that you would expect from a luxury hotel. Whether you're looking for a place to stay while on holiday or just need some time away from it all, Hotel Royal Palm is the perfect choice. Enjoy its comfortable rooms, delicious food, and great location near Shahastradhara Road.
About Sahastradhara , Dehradun
Sahastradhara which becomes an ideal picnic spot for friends, family, couples who look to explore the scenic beauty of waterfall along the folded mountains of doon valley. Shastradhara has been a picnic spot since several years of its establishment from the ministry of Tourism uttarakhand . Sahastrdhara along the best spot for tourist who look to chill along the river while travelling to Mussoorie along the Sahastrdhara road. Sahastrdhara has been famous for its waterfall extracting of Limestone constituting properties to cure skin diseases, and comprises of several temples famous for its old heritage. Along sahastradhara road one can also find a way to Maldevta famous picnic spot of Dehradun, where one can do air activities like paragliding, rock climbing etc. Along Sahastradahara road one can spot Doon Helidrome i.e. Helicopter services to Char Dham temples and various Tourist attractions
Why Hotel Royal Palm?
Hotel Royal Palm provides the direct road to Sahastrdhara with Maldevta nearby, Hotel Royal Palm provides cab service to its visitors at an affordable price and safety. Among the various Hotels in Sahatradhara, Hotel Royal Palm provides the best valuable services with facilities designed for Luxury being the tag line of Royal Palm.
Hotel Situated along Sahastradhara road, Hotel Royal Palm being the Best Hotel near sahastradhara provides its tourist a hassle-free check in and one step cab service
Take a short picnic break to the valley of the city Dehradun this season and relax yourself with picture-perfect settings and cool Himalayan weather and fresh air. Hotel Royal Palm situated near Rajpur Road Dehradun away from the maddening crowd, where you can truly feel the tranquility of nature at its best at the foothills of Mussoorie.
Book your stay with us, and don't forget to ask for a meal arranged at our spacious rooftop, which offers a spectacular view of the majestic Himalayas as the sheer beauty of the place with a view of Surkunda Devi along the Shivalik ranges of Dhanaulti and surroundings is enough to take your breath away.
At Royal Palm, best hotel in Dehradun near Rajpur Road Dehradun, we call it "FACILITIES DESIGNED FOR LUXURY", equipped with 20 well-furnished and spacious rooms with modern facilities and amenities, the hotel offers a unique blend of fine hospitality and unparalleled services.
These thoughtfully curated hotel rooms near Rajpur Road Dehradun are categorized into 3 room types- Standard Comfort Room, Twin Premier Room, and Royal Executive Room, for guests to choose from. Each of these rooms is artistically appealing and well-appointed with high-speed Wi-Fi, hot & cold air-conditioned, tea & coffee makers, indoor study table, indoor planters, spacious washrooms, 24×7 Hot &cold running water facilities, and many more.
Keeping the comfort and privacy of our guests in mind, once you are at the hotel, navigation between the floors with an elevator will surely be easy for all, especially for the elderly guests and kids
How to Reach Hotel Royal Palm?
Hotel Royal Palm is well connected by road, railway, air routes from all key cities. The Hotel is 30 km away from Jolly Grant Airport & 8 km away from the railway station and 3 km away from the Helipad. You can also take the NH 72A highway known as the Delhi- Dehradun Expressway. All the public commutable vehicles are well connected to the Hotel one can easily book a cab and enjoy the city of valley to the nearby tourist attractions. Hotel Royal Palm is situated along Canal Road just 1.5 km away from Pacific Mall. One can easily reach the hotel from the clock tower by booking any public means just in just 20 minutes.
Located in the heart of the city, Hotel Royal Palm is just steps away from some of the area's top attractions. Guests can easily explore the local museums, galleries, and shops, or take a stroll through the nearby park.
With its prime location, Hotel Royal Palm is the perfect base for both business and leisure travellers looking to experience all that the city has to offer.