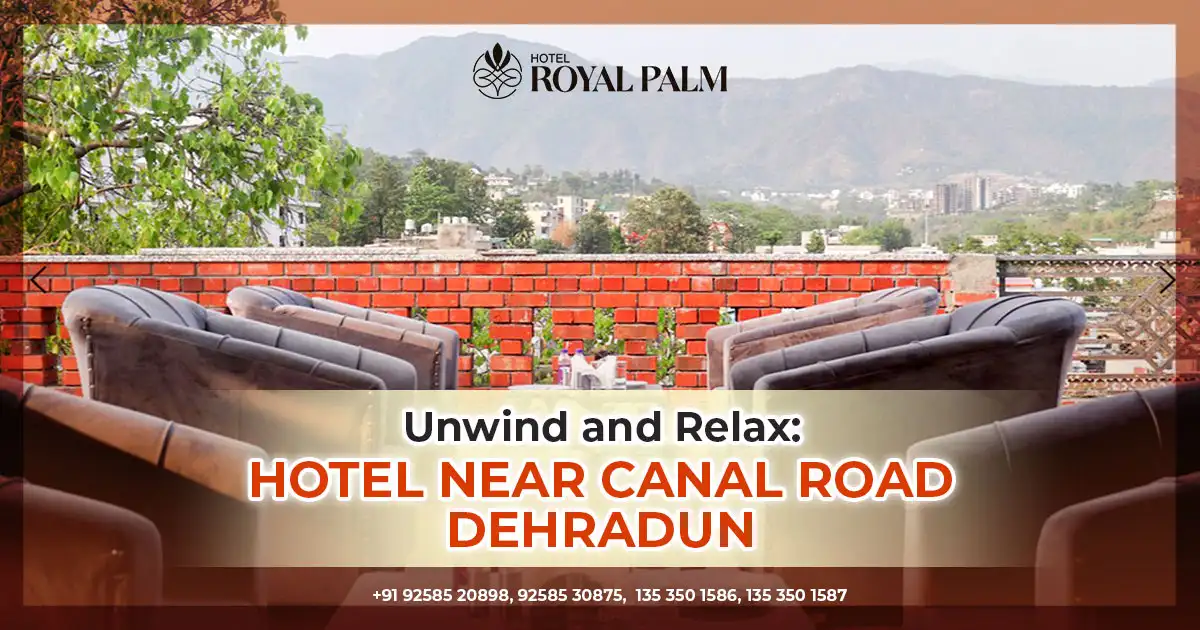 Unwind and Relax: Hotel near Canal Road Dehradun
Hotel Royal Palm redefined itself with its spacious exterior and interior rooms & lobby area, we also provide special arrangements for rooftop events, with lush green lawn and flora around every corner it ensures to provide you a refreshing experience every morning with an open terrace under the blue sky experience and special seating arrangements for the guest. 
Hotel Royal Palm aims to standard by its name with rich looking and exteriors we aim to embed every event with gems of luxury with furthers designed for luxury.
Hotel Royal Palm is an ideal destination for weddings, product launches, corporate meetings, or private events. But, organizing a successful event is no small feat to achieve. From planning the guest lists until the day of your event, we are engrossed in the minutest of details so that everything goes perfectly on the day.
Hotel Royal Palm has 2 sections to offer an outdoor lawn and an indoor party Hall with centralized A/C the total space offered has a capacity of 400+ Guests.
Hotel Royal Palm offers luxurious accommodations that are sure to impress even the most discerning Guests. To ease your Guests we have a Total of 19 Room with 3 Room categories fully equipped with AC and other basic Facilities and amenities.
The Royal Palm Experience
Staying at Royal Palm gives our guests the best experience in Dehradun Like Never Before with Hotel Royal Palm, Here are some experiences shared by the guests at Hotel Royal Palm.  
I am ecstatic to share about my recent stay at this breathtaking hotel, Royal Palm I was welcomed by the most welcoming and courteous personnel who went above and above to make sure my stay was fantastic from the moment I entered the lobby. 
The room itself was nothing short of luxurious with stunning decor, plush bedding, and all the necessary amenities one could ask for. And let's not forget about the incredible views from my window that left me speechless every morning! Every inch of this property exudes elegance and sophistication that is unmatched in this area. If you are looking for an unforgettable experience, look no further than this sensational hotel – it truly exceeded all of my expectations and left me with lifelong memories.
While staying in this renowned hotel I found myself in a heavenly abode.… Had a great stay, I stayed in this hotel in the past as well. The rooms are neat and clean. Would really to stay in the future. Great location. Everything available hotel near Canal Road Dehradun. The rooms are neat and clean. Excellent open seating is available for eating and relaxing. The staff is cordial, very welcoming, and courteous.
The room and washroom were clean. The staff were courteous and helpful. The puri bhaji on the morning menu was a hit with my youngster. Finding this hotel at the last minute was great; the rooms, hygiene, and staff service were all excellent, making it a pleasure to stay there. It was the pleasure of our family to be a part of your hotel, thanks for giving us a good environment to stay in. Beautiful accommodation conveniently close to the hotel near Canal Road Dehradun, Well equipped with all amenities. All staff are very supportive and humble. Food quality is excellent. The rooms are neat and clean.
The property location is good. Hygiene is maintained. Very helpful and courteous staff. The Best hotel in Dehradun and service we've ever experienced.  We enjoyed our stay.  Excellent service, polite staff, great location. Newly constructed building with all amenities. perfect for staying overall comfortable stay, highly recommended. 
Newly constructed, with all amenities 

The rooms, lobby, and interior all were beautiful 

Cover the most popular attractions in Dehradun in about 6-7 km 

Staff are highly professional

Allowed early check-in, also arrange complementary breakfast very Gud 
The hotel and my stay here were good everything was Good, the location was approachable and the room was neat and clean. Must visit property
Everything about the hotel is superb. Be it the location, staff, hospitality, cleanliness, and service all on point. The food is super tasty. Just loved my stay.
The hotel is so nice! The rooms are very clean, new, and comfortable! Best service! I recommend this place
Wonderful experience, superior cuisine, and sweetest friendliness. decent lodging and prompt services. The hotel is on the main road, easy to find, and neat, clean room and bathroom, clean stainless linen, water bottle crockery kettle, and sachets for tea, and coffee were placed in the room, overall, the staff was also very humble. Small gestures mattered like getting me my preference of channels to watch. The warm friendly receptionist and discreet yet efficient service.
Excellent, spotless, comfortable, and the best hotel in Dehradun (the heart of the city). We were greeted cordially by the helpful reception staff, which made our vacation more exciting with their guidance and information about the city. A supermarket, stores, restaurants, and pubs are all within walking distance. I would recommend this hotel to everyone! It exemplifies exceptional hospitality. 
Thank you once more,  for going above and beyond for the visitors!!! Must try at once, if you are in Dehradun.
Staff good

Food superb

Room superb
I was looking for a low-budget but clean and hygienic hotel to stay in at Dehradun and chanced upon the Royal Grand while surfing online. I needed someplace close to Sahastradhara road and this was just perfect. The receptionist Taruna whom I first contacted was warm and welcoming. She even called me on the day I was arriving to check my time of arrival. The check-in was smooth and quick. The beds were not too soft but just right for someone with a chronic back issue. The cuisine was good, and there was nice, welcoming service. I am planning to use the hotel whenever I am in Dehradun and even recommend it to my friends and family in case they ever need a hotel to stay in.
Every time I stay here rooms are fresh and clean, the staff is very friendly and polite, and the best part is the food is excellent I Had a great experience with the stay, and the very cooperative and welcoming staff of the hotel. Special thanks to Taruna mam for making this stay very seamless and wonderful.
Will recommend everyone who is traveling to Dehradun to just have an experience with the royal palm& hospitality.
Took family here amazing rooms, amazing food hands down. The malai kofta is out of this world, never had such a tasty dish like that. Talk about the view of the hotel rooms, the interior was awesome & so unique.
One Best properties to stay in is Dehradun The services are also very good in the view from the room is also very good manager was soft-spoken. The quality standard of the hotel is very good and I should say one of the best affordable stay-in places in Dehradun.
The employees make this a great place to stay despite the excellent location and the lovely, clean rooms. All of the people are incredibly helpful and generous. Best place to stay in dehradun.Thank you Royal Palm Dehradun. 
The stay was amazing and the staff was very helpful a special thanks to Miss TARUNA for allowing early check-in and helping throughout the stay..will surely plan.
My stay in Royal Palm whenever next I will be visiting Dehradun?
I was looking for the best place to stay and by moving towards Mussoorie I found the beautiful looking hotel and when I entered for my stay I was amazed at the hospitality, especially rooms with clean washrooms and awesome rooms at a decent price and also the staff is so supportive, the management is superb, food is next level I enjoyed my stay there I suggest everyone stay there and experience the nice stay in dehradun, in Dehradun Like Never Before with Hotel Royal Palm.